I took a knife from the kitchen and sat in the bathtub with it pressed to my wrist. I applied just enough pressure to break the skin but nothing more. I didn't really expect to follow through with it right then. It was a dry run.
When I was 24 in 2005 and coming to grips with who I was, it was generally expected that if an LGBTQ person discussed their sexuality or gender identity it meant they were leaving the Church. Your options were in the closet or out of the Church.
I didn't want to leave. My religion was the thing that defined me. It was part of every aspect of my life. As my impending decision became clearer, the depression I had been dealing with since adolescence intensified. I began to self-harm, which later began to feel compulsive, even involuntary. And then the suicidal thoughts came.
As I began entertaining the thought that the only belief system I had ever known might not be true, I remember telling a friend, "I'm not sure I want to live in a world where the Church isn't true." And I meant it.
Fortunately, when I eventually reached out, there were people who were willing to help. I had people who supported me during the hardest time of my life and helped me realize that life after the Church was worth living.
Not everyone feels that they can reach out, and not everyone who reaches out finds a sympathetic ear. That's the reality for LGBTQ Mormons, and that's one reason why too many end their lives. The Mormon Church has a suicide problem.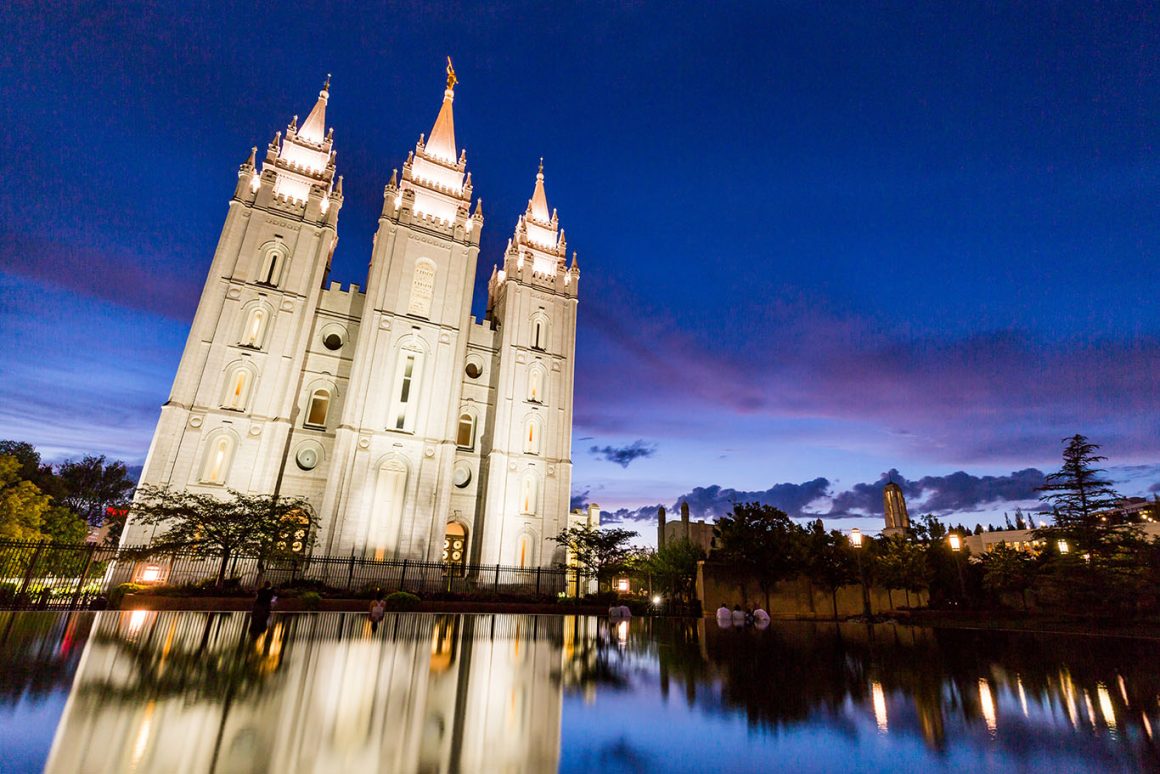 The Effects of the Church's Messages Upon LGBTQ People
In July 2018, the Church made a donation to a gay Mormon support group called Affirmation for the stated purpose of suicide prevention. The $25,000 donation is a pittance when considering the size and wealth of the Church, but more importantly it doesn't get anywhere near the root of the problem of LGBTQ suicide among Mormons. The problem is the Church's harsh messages about LGBTQ people.
The line connecting negative messaging and suicide is direct and clear. In addition to the anecdotal evidence many people have observed tying leaders' statements about LGBTQ people and subsequent spikes in suicides, research has found that areas with high Mormon populations have a higher rate of youth suicide. In fact, "Suicide is the number one cause of death of all Utah youth; this is not the case nationally." (Utah is majority Mormon.) The study is quick to say that it doesn't have numbers on how many of those kids were LGBTQ, but other research not specifically focused on the Church shows the connection between hostile environments and the death of LGBTQ people.
(As a side-note, it should go without saying that if the areas where your religion is dominant have a higher-than-average suicide rate, whatever the reason might be, red flags are flying high.)
This second study, published in a peer-reviewed academic journal, examines life expectancies in general, including factors like suicide, violence, and issues stemming from the negative mental health outcomes that result from societal rejection. The researchers found that in areas that are hostile to LGBTQ people, the life expectancy is a horrifying 12 years shorter for LGBTQ people than in areas that are accepting. They specifically mention suicide as a major driver of that disparity.
The Church controls the attitudes of millions of people. For example, if the Church was supportive of LGBTQ people, then Utah would be a supportive area, which, according to the above research (and common sense), would directly affect the lives – and lifespans – of LGBTQ people there. Of course, its influence extends to many communities outside of Utah as well.
Though there has been a rising awareness of the problem of suicide among LGBTQ members, awareness has yet to solve the problem. Knowledge of the issue has not substantively changed the Church's overall policy toward LGBTQ people.
Queer people have no place in the Mormon Church. If the leadership really wants to prevent suicide and staunch the hemorrhaging of membership due to their statements and policies aimed at gay people, they must find a place for them.
(Though most of the Church's statements regard gay men and women, transgender and other queer people are also impacted and will be discussed.)
Overt Hostility Gives Way to Mixed Messages
The Mormon Church, which formally goes by the name Church of Jesus Christ of Latter-day Saints, is famously anti-gay. This first became widely known during the Proposition 8 push in California that made gay marriage illegal there in 2008, when members of the Church from across the country helped fund the campaign at the Church's explicit urging. Members of the Church in California went door to door warning people of the downfall of society that gay marriage would bring.
As a result, the Church faced a backlash that I think caught a lot of the members off guard. Mormons like to think of themselves as nice, caring people, so to be perceived as mean persecutors was a new and unpleasant feeling for them. Perhaps counter-intuitively, it was after the Prop. 8 victory that the Church's tone toward gay people began to soften.
Lately, the Church seems to be giving mixed messages. One week they say that gay people should be loved and respected within the Church, the next they feel the need to reaffirm the Church's position that homosexuality is a grave sin in addresses to the Church's full membership.
In November 2015, a new Church policy was leaked to the public. People in a same-sex marriage would be considered "apostates" (it's a big deal) and children of gay couples would be required to reject the principle of gay marriage – essentially reject their parents – in order to be baptized. This marked a turning point for LGBTQ Mormons and those sympathetic to them. It felt harsher than many people were comfortable with. Some hoped that it was just a single statement of policy in a single handbook that could be easily changed, but the leadership put the kabbosh on that soon after by referring to the policy as an official revelation that the brethren had prayed long and hard about.
In April 2019 – about three and a half years later – the Church decided to drop the word "apostate" and treat the children of LGBTQ couples more like everyone else. But the damage for many members had already been done.
The harsh messages mixed in among the conciliatory ones are not lost on LGBTQ people or those sympathetic to them. The Church is losing these members. Feeling rejected, they feel no choice but to leave the community and belief system they have known for their whole lives. They are not turning their backs on their religion so much as being driven away.
Even more tragically, some find it so hard to imagine life without their religion they choose instead to end their lives.
So what's the problem?
It's common for people outside the Church to not understand why it is so rigid on the issue of homosexuality and queerness more generally. The key is in understanding the centrality of procreation to the Mormon religion. From birth, a Mormon is taught "The Plan of Salvation," alternately referred to as "The Plan of Happiness," which emphasizes the importance of the creation of human life. Bear with me here.
The basic idea is this: Before we are born, we existed as pre-mortal spirits. When we are born, this spirit receives a body to inhabit, which is one of the primary reasons for our mortal life. Once we have a body, we are then to facilitate others in their getting a body through… making babies. The point (doctrinally, anyway) is not to create more people so much as to give bodies to the spirits who already exist. Every pre-mortal spirit must have the chance to receive a body. That's why Mormons are encouraged to have so many kids.
Bodies are essential because after we die and are temporarily separated from our bodies, we will be resurrected as Christ was and retain them for the rest of eternity, if we're good. We cannot reach our ideal state in the afterlife without a resurrected body.
In addition, we will forever be tied to the people who were our family in life. If everyone in your family does everything they're supposed to do (follow Christ, obey commandments, repent, etc.) and complete all the ordinances (promises and rituals like baptism, basically) you'll be 'sealed' together as a family for eternity. So choose your spouse wisely because eternity is a long time.
Here's where people get a little freaked out. So now you and your spouse are in the afterlife, linked together forever, with your bodies reunited with your spirits. At this point you are able to take the next step of… making spirit babies. Like Heavenly Father (who, yes, is married to Heavenly Mother), you will create spirit children who will go through the whole process of birth, death, and resurrection just like you did. And then they will have their own spirit children, on and on for eternity.
This is the purpose of life. This is the reason we exist: to reach that ideal state of married and procreating, both in life and in death.
So how does a queer person fit into that picture? Short answer: They don't!
Anyone who does not or cannot fulfill that pattern is left out of what is called, again, "The Plan of Happiness." You are left out of the way God provided for people to fulfill their purpose and be happy. You have to sit through speech after speech, lesson after lesson, Sunday after Sunday, year after year constantly being reminded that you are left out of the path to happiness.
The fundamental message is: happiness and purpose are not for you. It's no wonder so many LGBTQ Mormons experience extreme depression and far too many commit suicide.
The fundamental message is: happiness and purpose are not for you.
With all of this in mind, it should be no surprise that sexual sin is considered especially heinous. Adultery and fornication are two of the worst sins you can possibly commit. Homosexual sex is even more serious, sometimes referred to as second only to murder in seriousness. Yes, really. I was taught many times while growing up in the Church that being gay was second only to murder.
So what can change?
It's hard for the Church to change. They refer to themselves, in the words of founder Joseph Smith, as the "only true and living Church upon the face of the whole earth." The Prophet is said to be the voice of God on Earth. Changing course on an issue would come dangerously close to admitting that the Church isn't perfect, which would be the same as saying it isn't true. Individual leaders are allowed to be wrong on occasion but doctrine is not. The Church is absolute truth.
The April 2019 course correction on "apostates" is a big deal and about as close to a mea culpa as the Church is ever likely to give. Which is to say that it's a half-hearted, equivocating one on one relatively minor aspect of the overall issue. Members in same-sex relationships will still be subject to ex-communication whether they're called apostates or not. And if their children choose to participate in the Church, they will still be taught that their family is inherently sinful.
The Church is also handicapped in changing by essentially being a geritocracy. The Prophet appoints apostles – a lifetime appointment – when one dies. When a prophet dies, the apostle who has been serving the longest becomes the new prophet. This means that, by design, the Church will always be led by extremely old and out-of-touch men. Any organization set up this way will have a hard time adapting.
The LDS Church has changed before, though. In 1978, the leadership announced that God had let them know that men of African descent could now hold the priesthood. Every worthy male Mormon over the age of 12 holds some form of the priesthood, so it had been a major – and incredibly controversial – exclusion up to that point. Though obviously a reaction to political changes in the culture following the Civil Rights Movement, it was not framed as such. It was just stated that God had decided it was time.
But as major a change as this was, and as frankly embarrassing as it was to backtrack on such an important issue, race is not as fundamental to Mormon theology as procreation, so it most likely cannot serve as a model for how the Church can change to accept LGBTQ people.
For a larger change in practice, we have to look back to 1890, when the Prophet Wilford Woodruff announced that God had called for them to end the practice of polygamy, which had been a large part of the Church for decades. This time it was very explicitly a political move. The Prophet's vision was not of polygamy becoming a sin but of the U.S. government using it as an excuse to forcibly take over Utah. Polygamy, as a matter of principle, was never disavowed and actually remains part of the doctrine. It is still taught that some men will have multiple wives in the afterlife (which only made it more jaw-dropping to see Mormons holding signs and wearing T-shirts that said "Marriage = 1 Man + 1 Woman" during the Prop. 8 fight).
Neither of these changes can really provide a template for how the Church can adapt to accommodate LGBTQ members because neither required a change to foundational doctrine. The Church cannot fundamentally change the outline of the Plan of Salvation and retain any credibility whatsoever.
But there are some precedents for loopholes. There are, of course, heterosexuals who never find a spouse. These people, almost always women because they are more likely to stay active in the Church and continue their search for an "eternal companion," are told that if they are faithful through this life, they will be able to find someone in the next life (often as a plural wife of a worthy man who already has a wife).
This seems to be a tact that people in the Church have tried to apply to queer people. Basically, just ride out this life without completely destroying yourself spiritually and God'll work it out later. Church members are no longer taught that homosexuality is inherently evil (though they were for decades), just acting upon it, so this could seem like an out. We all have temptations, goes the argument. We all have urges we can't act on. It's brushed over, of course, that the unique implications of this for a gay person are: Stay celibate, never date, never find a partner, never experience physical affection, and just make it to the finish line of death when presumably God will be able to un-gay you. Doesn't really sound like a plan of happiness, does it?
This approach also relies upon the increasingly anachronistic idea that homosexual relationships are sin. And it still requires gay members to be constantly reminded that they are excluded from the Plan of Happiness, at least during life. This lukewarm doesn't-please-anyone compromise would be a temporary patch at best and would still produce a whole lot of miserable people.
Another loophole has been made for infertile couples. While the messaging of the importance of childbearing still makes for an excruciatingly painful experience for many of these couples, they are permitted to adopt and then be 'sealed' to those children in special ceremonies in the temples. They are able to play their role in the big picture even without being able to procreate.
This might seem like a better way out for the Church. If gay couples can't participate in the Plan of Happiness through biology, perhaps they could by adoption, artificial insemination, or surrogacy. As a culture we've become accustomed to seeing same-sex couples with children, Mormons included. But ask a member of the Church to picture two Heavenly Fathers or two Heavenly Mothers adopting spirit children through the eternities and they are liable to faint.
This idea also runs us up against another major wall that prevents the Church from moving with the times: the centrality of gender roles. Men and women receive very specific instructions on what they are to do within the Church. Women are mothers, wives, and caregivers, first and last. Men are providers and spiritual leaders of their families. And never the twain shall meet.
This is no minor doctrine. People's entire lives revolve around fulfilling these roles. And members of the Church who have agitated for women to receive the priesthood have been ex-communicated.
How would a same-sex couple fit into those gender roles? Would two wives both fill the female role or would one need to fill the male role? In order to accept gay couples, the Church's attitudes toward gender would have to change as well.
This is also where we arrive at the Church's difficulties with individuals who are transgender, genderqueer, or elsewhere under the queer umbrella. They are just as excluded from the Plan of Happiness as gay people. They are just as bombarded with messaging that makes that clear. Gender is considered a fundamental part of a person from pre-mortal life to the eternities.
So where are we headed?
Straight members of the Church, especially (but not only) the younger ones, are also leaving en masse in response to outdated attitudes and policies. Mormons want to be nice. They don't want to be part of a religion that appears mean to gay people (not to mention their children). Many of the members of the Church know how to have compassion towards LGBTQ people, even if the leadership doesn't.
It is not an overstatement to say that a change in LDS Church policy toward LGBTQ people would save lives.
Many queer people are desperate to stay in the Church. They don't want to reject their upbringing or the organization that has brought them some measure of joy. Their church's rejection of them forces them into the position of choosing between leaving everything they've ever known or misery or suicide. The leadership of the Church seems somehow blind to this. Hopefully they're not just indifferent.
To be fair, the leadership is sort of damned if they do, damned if they don't (pardon the phrasing). Do they change direction on an issue they've doubled-down on over and over, potentially losing claim to absolute truth in the process? Or do they continue on their current path of preaching love and kindness while mistreating an entire segment of society and losing members? Either way they lose credibility.
It's a tough decision to make, which means an actual decision may never be made. Honestly, the most likely outcome is intransigence and a resulting slow-but-steady stumble toward irrelevance. It doesn't seem likely LGBTQ people will have a place in the LDS religion anytime soon.
Unfortunately, in this case a lack of movement represents a great human tragedy. To put it even more starkly: it is not an overstatement to say that a change in LDS Church policy toward LGBTQ people would save lives.